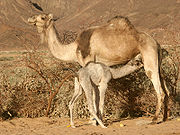 F

or the first time, the competition squeezed camel milk and camel milk the most out held in the United Arab Emirates.
Competition was followed by many participants from Arab countries such as Saudi Arabia Gulf, Emirates, Oman, Qatar, and Kuwait.


Abu Zhabi Cultural Council, which sponsors the unique title race, said race series completed on Tuesday (26 / 1) ago
, and has become a hot topic of conversation among the Gulf Arab community, mainly students of a camel.


The number of participants who followed the race up to 500 people.
They come from different parts of the Gulf Arab state.
A female camel origin Emirates managed dairy weighing 17 kg, while the female camel milk Oman pulled out weighing 15.74 kg.


Muhammad Abdullah al-Mahiri, the race committee chairman told the Alarabiya (27 / 1), a few camels from Arab countries to compete with the Gulf looks tight in the milk out of the race.


Emirates camel's Thasah Muhammad ibn al-Amiri out as champions.
Female camel named "al-Qu'ud" that produce milk weighing 17 kg.
Al-Amiri had pocketed the first prize trophy plus a cash prize and a car.
(ags / aby)



Source: www.eramuslim.com